The picture below shows the Settings screen, which will give you an idea of what variations are possible. It is operating in split-screen mode - the window on the left shows the original picture and the mirrors.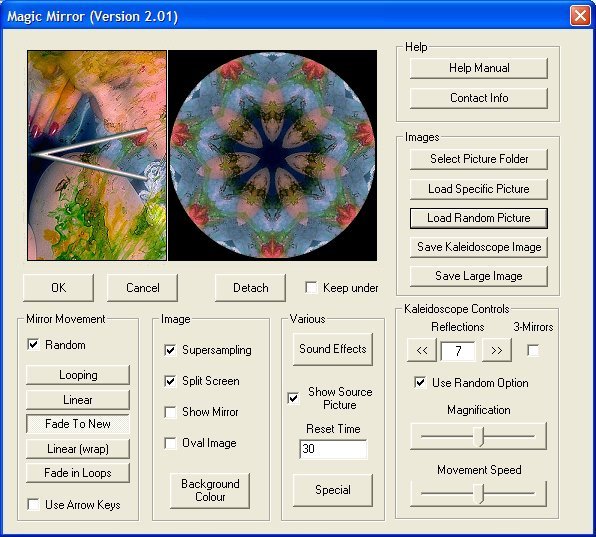 The mirrors can be set to move in gentle loops around the source picture - they can also move periodically from place to place, with the old image fading gently into the new one. Of course the angle between the mirrors and the size of the reflected region (the magnification) can also be controlled. When in operation as a screensaver, it will load new images randomly from the folder of your choice.
Magic Mirror comes with an easy and automatic installer / uninstaller. You can try it for as long as you like, but the demonstration version can only operate with the included set of images.
Here's an image made using the tiled 3-mirror mode (new in Version 2.0):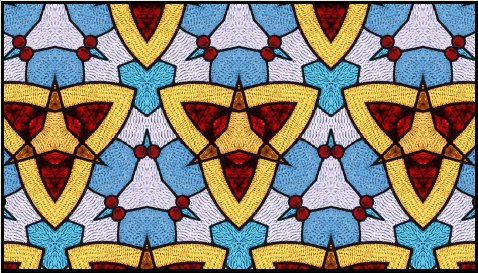 Using graphics from the internet: This is quite easy to do (only with full version of Magic Mirror). With Internet Explorer, just right-click on your chosen image and choose "Save Picture As...". You can save as its current type (e.g. GIF or JPG) or a Bitmap (BMP). The full version of Magic Mirror can happily read BMP images - just save them into the folder and it will use them just like the trial version images.
Here is a collage of typical thumbnails of images coming from the 55 pictures that come with the full version of Magic Mirror. As with the trial version, each picture creates an endless and surprising variety of kaleidoscopic views, and of course you can add your own pictures to the mix.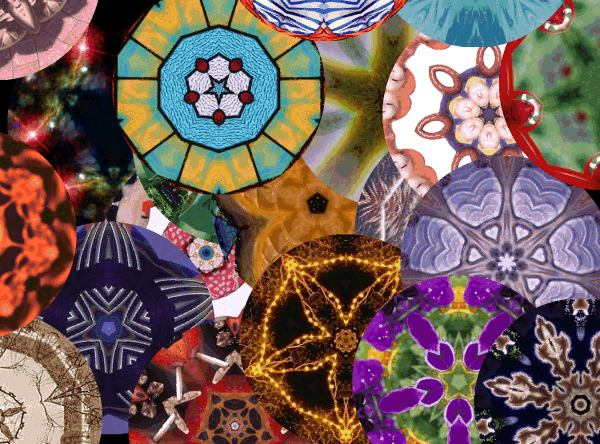 When (or if) you want to purchase, a secure online registration service is just a click away. They can generate your code automatically, so you should receive it within minutes if you pay by credit card. If you're not comfortable sending credit card details over the Internet, they will be happy to accept payment in a variety of ways. The price is only $19.95, and like our other screensavers, it has enough variety that it will be a permanent resident on your desktop. Your license is valid for all future versions.