Bindweed Screensaver Manager is a powerful and easy-to-use screensaver manager - see below for an picture of its settings screen. Just select the screensavers of your choice and assign them one to five hearts using the buttons on the right of the listbox. If you don't want to see them, set them to zero hearts. You can add non-standard screensavers if you want, and sort them by hearts, internal name, or filename.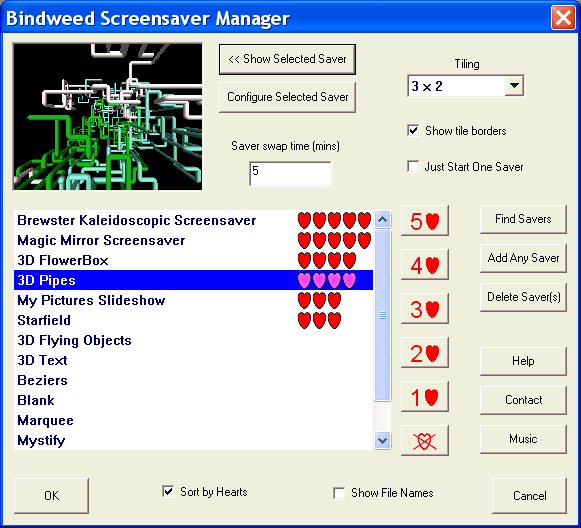 Run a single screensaver, or run up to twenty in panels - the choice is yours! A compatibility mode allows you to start a single random screensaver once only - this should allow even very non-standard screensavers to run with the screensaver manager.
Bindweed Screensaver Manager comes with an easy and automatic installer / uninstaller. You can try it for as long as you like - the trial version operates just like the full version, but from time to time, instead of a screensaver, you'll get a message.
When (or if) you want to purchase, a secure online registration service is just a click away. They can generate your code automatically, so you should receive it within minutes if you pay by credit card. If you're not comfortable sending credit card details over the Internet, they will be happy to accept payment in a variety of ways. The price is only $19.95, and your license is valid for all future versions.